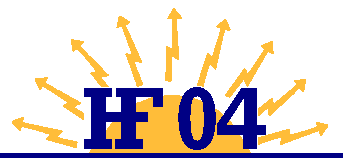 News and Additions
Page updated: 07-mar-2005 14:38:02 +0100

News

| Invitation | Information | Registration | Submission of Abstracts | Travel info | Time schedule | Session Programme | Grimeton Radio | Organisers
---
This page will be regularly updated when new information or instructions are available, and thus serves as the place to obtain all distributed information from the Organising Committee, Programme Committee and the Conference Secretariat.
---
23 August 2004
We would like to remind all visitors to this web that an updated CD-ROM containing the papers from all 7 conferences in Acrobat PDF format is available for sale from this page (order form).

16 August 2004
The conference was a success with terrific weather all week, gathering some 166 participants plus many accompanying family members. Have a look at some pictures taken by participants that have been uploaded to this site.
A HF 04 report in Swedish with many pictures is now published on the ESR homepage.
See the Nordic HF links page for a collection of the latest links gathered after HF 04.

03 August 2004
The HF 04 Session Programme is announced here!

29 June 2004
Added information with timetable when going by public bus transport from Visby to HF 04 on Fårö. See the Travel info page.

23 June 2004
An updated CD-ROM that also includes the new HF 04 proceedings will be be available for first sale at the HF 04 conference in August. More information...
Departure times for the HF 04 bus shuttle between Visby harbour/airport and the HF 04 Camp are now also announced on the Travel info page.

22 June 2004
Participants are invited to visit UNESCO World Heritage listed Grimeton Radio after the HF 04 conference.

15 June 2004
IMPORTANT! A written confirmation has now been sent out to all people that registered to participate in the HF 04 event. If you did register but do not receive the confirmation in your mail by the end of this week (Friday 18 June), please contact the conference secretariat, thank you.

24 May 2004
If you recently (late April until 20 May) registered from this web to participate in the conference but have not received any confirmation from us of your submitted registration form, please repeat you registration here. Your first submission may not have been sent by the SMTP server despite the positive response (no error message). The fault was discovered by the Nordic HF webmaster who then transferred and re-directed the site on 20 May to the temporary location: www.wrap.se/nordichf/. This location will be re-routed back and closed when the original host server www.nordichf.org is confirmed to be 100 % reliable again by B-one webhosting support in Denmark. Sorry for the inconvenience.

08 April 2004
The Travel info page has been updated with more information.
The Links page is continously updated with links in the HF area as well as links to information on Gotland & Fårö.

29 March 2004
The HF 04 Invitation and Provisional Programme (that some of you received recently by mail) is now also posted here!
Submission of Abstracts for Poster Presentation is re-opened to allow late submissions... here!

05 March 2004
The registration forms - for all participation in the HF 04 event - have been updated. Please register for the conference here!

18 February 2004
Instructions for Authors have been updated for HF 04 (from the HF 01 template previously posted). Authors, please download here!

12 February 2004
The Programme Committee has held its abstracts review meeting and can announce that the conference programme will be filled to the brim with interesting papers covering almost all aspects of HF communications.

09 December 2003
HF 04 Instructions for Authors, now available for download here.
The next upcoming conference event, HF 04, is now open for submission of author abstracts and/or registration for participation. Please observe the time schedule for HF 04.

HF 04 - First Information and Call for Papers (Adobe Acrobat5 file) - This is the paper that was distributed by AerotechTelub in October 2003 to participants of the previous conference HF 01 and those who filled out our online interest form. Sorry for this delay in posting it here!

23-26 June 2003
The ninth International Conference on HF Radio Systems and Techniques has just finished. This time the IEE organised conference was held at the University of Bath, UK and was a success. We wish to thank our 'sister' conference for letting us officially launch the Nordic HF 04 conference by offering us their support and space at the exhibition area.

11 June 2003

Poster Invitation to HF 04 (Adobe Acrobat file) - Poster page added for viewing and printing.

10 June 2003
www.nordichf.org, the new homepage for the Nordic HF conferences, is officially opened and updating is commenced for the next conference, HF 04.
-----------
For a log of earlier news, visit the News Archive
---

---
Questions: Contact

nordichf@aerotechtelub.se