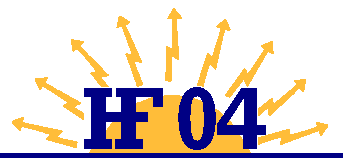 Registration - NOW CLOSED!
Page updated: 07-mar-2005 14:20 +0100

Invitation | Information | Registration | Submission of Abstracts | Travel info | Time schedule | Session Programme | Grimeton Radio | Organisers
---
Registration for HF 04
Authors and/or Participants were reminded to register, preferably not later than 18 May 2004.
IMPORTANT! Normally, within a week, you should receive an e-mail confirmation of your registration from us. If not so, please contact the Conference Secretariat.
The normal conference fee, including full board and lodging, Monday evening to Friday morning, is SEK 10600:- (SEK 5300:- for students) + VAT when applicable, to be paid when invoiced or by credit card authorisation on this form. The conference fee includes full board and lodging on the FBU camp. For early arrival and/or late arrival, family members, etc, refer to additional information. If over-booked, priority will be given in order of payment. To cancel your previous registration, please send an e-mail to nordichf@aerotechtelub.se no later than 14 days before the event.
---

---
Questions: Contact

nordichf@aerotechtelub.se