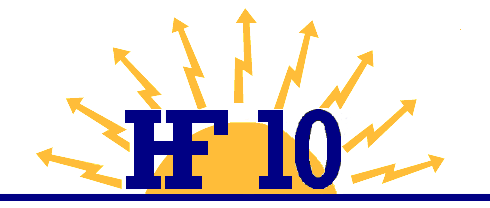 Latest News and Additions
Page updated: 28-jun-2011 12:53:27 +0200
News | Invitation | Information | Time schedule | Travel info | Session Programme | Organisers | Sponsors | Registration and submission
---
This page will be regularly updated when new information or instructions are available, and thus serves as the place to obtain all distributed information from the Organising Committee, Programme Committee and the Conference Secretariat.
---
28 Jun 2011
The IET has started the preparations for the 12th International Conference on Ionospheric Radio Systems and Techniques (IRST 2012). It will take place in York on May 15-17, 2012. More information will be released shortly.

25 Oct 2010
Check out Chairman C-H Walde's summary of HF 10 (on the front page),
extracted from U.R.S.I. Radio Science Bulletin No. 334 (September 2010), page 74-76.

03 Sep 2010
HF 10 Presentations now accessible for participants

23 Aug 2010
Added link to AFCEA HF Course
Prepared posting of HF 10 Presentations

02 Aug 2010
HF 10 Final conference program (PDF) now posted on the Invitation page.
Added travel information for those intending to participate at the HFIA meeting on Friday 20 August in Stockholm. See the Travel info page.

14 Jul 2010
The official HF 10 Session Programme has been added. Lots of practical info concerning the conference week added to the Information and Travel info pages. The Sponsors page is also updated.
11 Jun 2010
An HFIA meeting will be held on Friday 20 August in Stockholm, see:

directions to the HFIA meeting place. The HF 10 Conference will arrange transportation from the conference to Visby airport at a suitable time on Thursday afternoon to arrive well in time for the 18:55 Skyways flight from Visby to Arlanda airport for those planning to attend the HFIA meeting. Note that the Conference Banquet is not affected since it will be held on Wednesday evening.
03 Jun 2010
We currently have a large number of confirmed participants but can still accommodate more. The very latest date to register to the conference is 9 August, but we cannot guarantee participation for such late registrations.
14 May 2010
Take the opportunity to promote your organisation at the HF 10 Conference with LW 10 Symposium. Read more on sponsorship.
06 May 2010
IMPORTANT INFORMATION FOR REGISTRATIONS AND CREDIT CARD AUTHORISATIONS BY FAX
We currently have a problem with the fax number +46-13-299235. Please use this number instead: +46-13-231121.
15 Apr 2010
The final Invitation with provisional programme is now posted on the Invitation page.
Please register to the conference using either the web form (through User registration and Conference registration) or the PDF-form that can be filled out on screen and printed.
16 Mar 2010
The Programme Committee held its abstracts review meeting 2 weeks ago. All contributors should by now have received a response on their submissions. Please contact us otherwise.
20 Jan 2010
The Nordic HF web site has been updated for HF 10, see button pages: Home, Invitation, Archive, Travel and Links.
07 Dec 2009
Nordic HF 10, 17-19 August 2010, is now open for registrations and/or submission of abstracts for the conference. Abstracts are requested not later than 14 February 2010.


29 May 2009
HF 10 is planned for 17–19 August 2010.

HF 10 - Poster Invitation - to announce the conference.
---
For a log of all earlier news, HF 98 ... HF 07, please visit the News Archive
---

---
Questions: Contact

info@nordichf.org