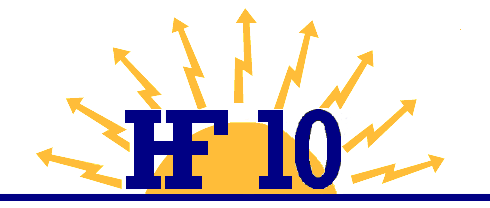 Information
Page updated: 01-aug-2010 12:29 +0200
News | Invitation | Information | Time schedule | Travel info | Session Programme | Organisers | Sponsors | Registration and submission
---
Location
The conference will be held at the Fårö kursgård camp on Fårö, an island just north of Gotland. The amateur radio station SL1HF card shows the location.

Transportation
Visby on Gotland can be reached from the Swedish mainland with car ferry from Oskarshamn and Nynäshamn (about 3 hours), and by air from Stockholm/Arlanda and possibly other airports (less than 1 hour). Refer to our Travel info page.

Bus shuttle
Late afternoon departures from Visby harbour/airport on Monday; first departure from the camp on Friday morning. This round-trip transportation Visby harbour/airport - Fårö is included in the conference fee. Public buses are also available. See more information on our Travel info page.
Transportation from HF 10 to Visby Airport on Thursday (evening flight) will be arranged for participants at the HFIA meeting in Stockholm on Friday. Note that this is also included in the conference fee.

Time schedule
We expect you to arrive on Monday, 16 August, and to depart on Friday, 20 August (unless you have registered other arrival/departure times). The HF 10 reception will be open 15.00 - 22.00 (Monday), 07.30 - 17.00 (Tuesday to Thursday). The conference will start on Tuesday 17 August at 08.00 sharp and close Thursday evening the 19th.

Sufficient spare time has been set aside for informal contacts and meetings.
| | |
| --- | --- |
| - Monday evening | Get-together with light meal |
| - Tuesday evening | Church concert, followed by Exhibition Party |
| - Wednesday afternoon | "Fox Hunting" - Find the hidden Transmitters |
| - Wednesday evening | Conference Banquet in Gotland traditions |
| - Thursday afternoon | Guided excursion around Fårö |
Exhibition, amateur radio
There will be an exhibition and an amateur radio station SL1HF where you will be very welcome.

Accommodation
Lodging is slightly primitive. Due to the limited number of rooms, participants should be prepared to share quarters. You will receive bed linen but you are asked to make up your beds yourselves. Leisure wear is appropriate at all times. Internet is available (guest computers as well as wireless to laptops). If you have not already informed us on wishes for special food, please do that soonest.

Conference fee
The fee of SEK 12600 (SEK 4200 for students and pensioners) + VAT includes all conference costs, full board and lodging from Monday afternoon to Friday afternoon. Reservations will be allocated in order of receipt of payment.

Family members
Family quarters are available. The extra fee for an adult (>16 years) is SEK 2400, and for each child (3‑15 years of age) SEK 1200 (VAT included).

Weekend stay
Extra fee for an adult is SEK 600 per day and for each child SEK 300 per day (VAT included).

Caravan
Participants who use their caravan as lodging will receive a SEK 2200 discount on the conference fee.

Scholarship
Some HF 10 scholarship awards are at the disposal of the Organising Committee.

Confirmation of registration and invoicing
Invoice or confirmation of credit card charges and travelling information will be sent starting in March 2010.
Please pay board and lodging for family members and weekend stay at the camp not later then 17 August. Credit cards (Visa, Master Card and others, but not AMEX and Diners) are accepted. Payment in SEK, please. Bank facilities and cash point are available in nearby Fårösund. More info at: info@farokursgard.se
Provided that cancellation notice is received 14 days prior to the event, 10 % of the conference fee has to be paid. For later cancellations, the full fee has to be paid. However, participants may be substituted at no extra cost.

HF 10 Conference Secretariat
Before and after the conference week:
HF 10
Saab AB
Support and Services
SE-581 82 Linköping
Sweden
Phone: +46 13 231321
Fax: +46 13 231121
Contact persons:
Olov Carlsson, +46 70 5159467, olov.carlsson@wrap.se
Margareta Samuelsson, +46 13 231321, margareta.samuelsson@saabgroup.com (secr)
Håkan Bergzén, +46 470 424 04, hakan.bergzen@combitech.se (contributions)

During the conference week (including preceding weekend):
HF 10
c/o Fårö Kursgård, Fårö
Fårö, Lauter 2
SE-624 66 FÅRÖ
Sweden
The HF 10 reception will be open 15.00 - 22.00 (Monday), 07.30 - 17.00 (Tuesday to Thursday).
Telephone: int +46 498-22 41 33
int +46 70 591 60 61 (C-H Walde, Conference chairman)

Telefax: int +46 498-22 43 20
---

---
Questions: Contact

info@nordichf.org